FUN FOR THE YOUNGEST
This weekend, City Center one East and West will turn into fun zones.
This year too, City Center one's birthday party will be the place to be for the youngest. Fun activities and amazing dance shows and plays await the youngest on Saturday and Sunday from 11 AM to 7 PM.
The young visitors will get to try their hand in fun board games and quizzes. The most skilled will get to win great prizes, as well as try exciting workshops where they will learn to do magic tricks and illusions, twist balloons or dye shirts which will help them look cool in front of your friends. Of course, we have also prepared the inevitable facepainting, and who knows – maybe they will meet Tiger Toby at this party, who might delight them with a sweet surprise.
The little ones who love dancing will get the chance to play dancing video games. If they need inspiration, they can find it in cool moves of dance groups. On Saturday from 5 PM onwards, dance group Megablast will perform at City Center one East, while Dance Points Zagreb (Plesni punktovi Zagreb) will put on a show for the youngest at City Center one West.
If your little ones are more inclined to stories, they can enjoy plays performed by Cirkorama on Saturday at 11 AM at City Center one East or on Sunday at 5 PM at City Center one West.
Check out the detailed schedule, bring your little ones and help them create unforgettable memories!
City Center one West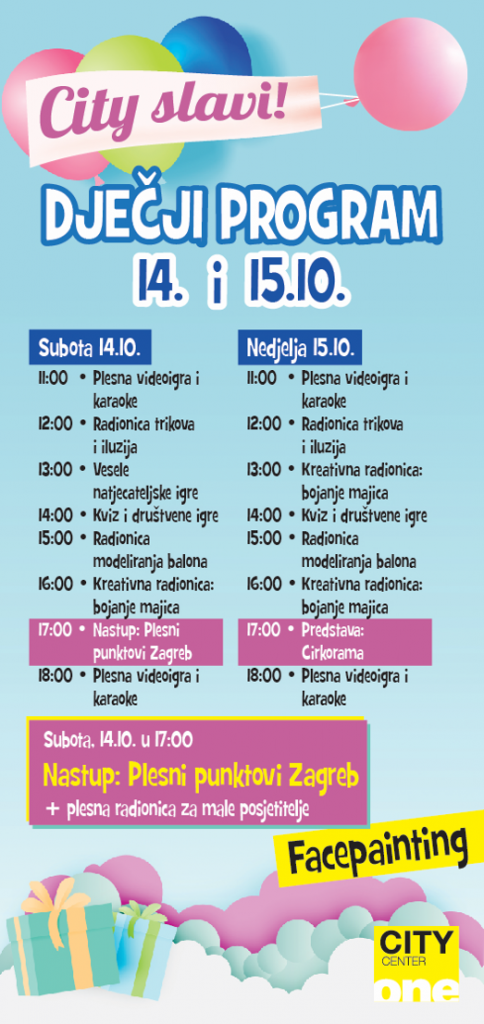 City Center one East